I am, with no embarrassment about saying it, a #crazydoglady.  I give my dogs voices, talk about them as if they are my children, snuggle them when they are feeling bad and sometimes I'd much rather stay home with them, than going out and interacting with my own species.  I think having dogs has made me a better person, someone more patient, more optimistic and more appreciative.  Today I share with you, 8 lessons I've learned from my dogs.


Dogs are always so open and friendly to new people.  While, as humans, we often forget casual niceties and exchanges of "hello" as we pass strangers, dogs never pass up the opportunity to make a new friend.


Sometimes we avoid certain things for fear of "ruining a good pair of shoes."  Dogs remind us to look past that, some of the best things in life require us to just jump in feet first without worrying about the mess.



I don't know anyone who can nap like my dogs can.  Relaxation is so important to rest our minds and bodies.



Dogs know better than to skip important meals.  Food is our fuel and even when we're busy it's important to take time to sit down and enjoy a meal.


Who likes "normal" anyways?  Go ahead and let your freak flag fly, my friends.  Don't care who is looking and what they might say.  Just be yourself.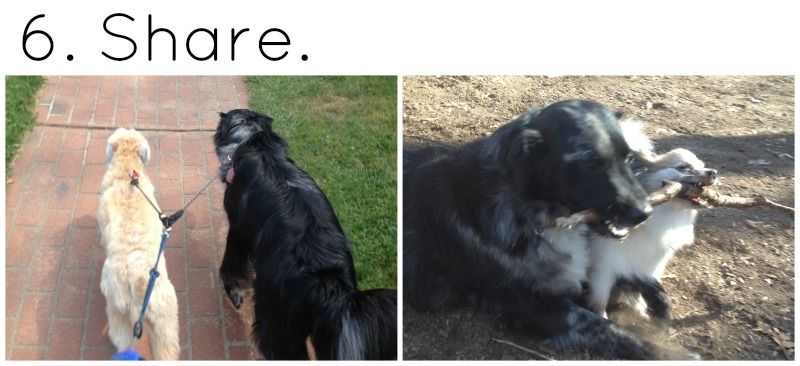 Most things in life are better when shared with someone we love. Don't let greed or jealously cloud your judgement, make sure to share good things with others.


I have yet to see a more pure form a joy as when I bring my dog, Zoe, a new squeaky toy home.  A $2 gift can make her happier than any person I've ever seen.  I take notes from this utter happiness derived from a single, small item, and remember to be thankful for all the little things in life.


Even if they say the stick is too big for you to carry, carry it anyways.  Believe in yourself and prove them wrong.
What lessons have you learned from your pets?