Hi Friends! I hope you all had a lovely Christmas, and if you don't celebrate Christmas, I hope you had a darn good day anyways!  This year, Christmas sort of snuck up on me, like when someone comes up behind you and taps you on one shoulder but then moves to the other side so you look to one side and see no one there.  Sneaky Christmas! As I've mentioned, I have/had two huge exams this week as part of a teaching credential I'm trying to acquire – one the Saturday before Christmas and one this Saturday.  So, needless to say, I've been a little distracted from this Christmas season this year.  But, I feel so lucky I was able to take a 36-hour span to just enjoy Christmas and family.  Late in the afternoon on Christmas Eve Michael and I drove two-and-a-half hours north to visit his family.
As always we were immediately greeted with warmth, and too much food, and laughter. This year was the 9th Christmas Michel and I have been together and I'll never forget my first Christmas visiting his family up north, being so overwhelmed (in a good way) by how welcoming and generous.  I feel so blessed that I've been able to join this family. (Eep! Sorry, feeling a bit nostalgic today, I think the studying has gone to my head!)
Upon arrival we ate too much food, caught up with everyone and whipped out some playing cards for a few rounds of poker. Austin made it a point to sit on EVERY SINGLE PERSON'S lap and photobomb approximately 99% of every photo.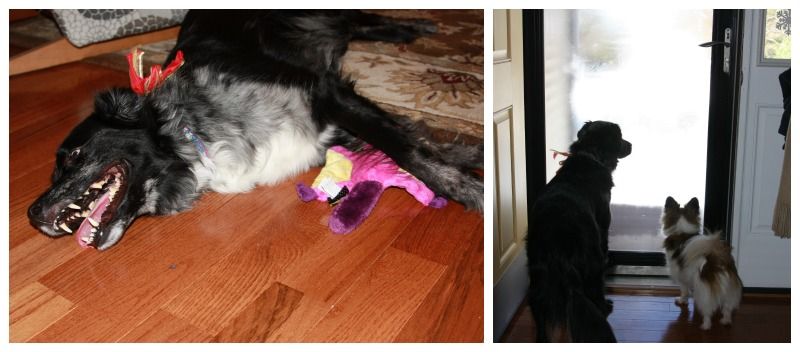 Christmas morning we exchanged photos with Michael's immediate family.  Austin and Zoe both got a new squeaky toy, but since Austin didn't want his Zoe was left heart-pressed, trying to decide which toy she wanted to play with more.  That on Zoe's face, my friends, is the look of utter and pure happiness.  After too short of a visit we packed up the car to move on to my dad's house.  (The dogs, of course, worried the entire time, fearing we might leave them behind.)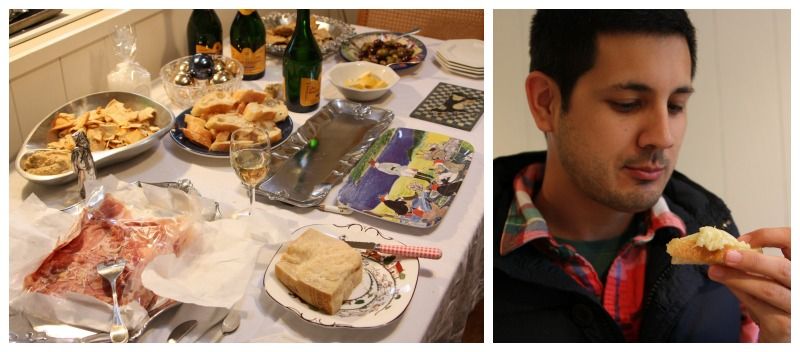 We arrived at my dad's to one of my step-mom's stunning spreads.  She is, hands down, the best hostess I know.  Prosciutto, aged Parmesan,  her famous artichoke dip, marinated olives, saganaki, hummus and, of course, champagne.  Michael was in heaven with his first experience consuming saganaki (sort of like the happiness of Zoe and her multiple squeaky toys.)
After allowing us to refuel with the appetizers and champagne, my dad insisted we open our first gift because it was an "activity." We opened a box containing seltzer water, Pimm's No1 and a cocktail recipe book with the instructions: "Find the recipes that matches these ingredients, then whip us up a batch!"
After a wee bit of searching we found Bug Zapper to be the desired recipe, calling for Pimm's, Seltzer and a splash of Grapefruit juice.  We happily settled into the living room to drink our Bug Zappers and exchange gifts.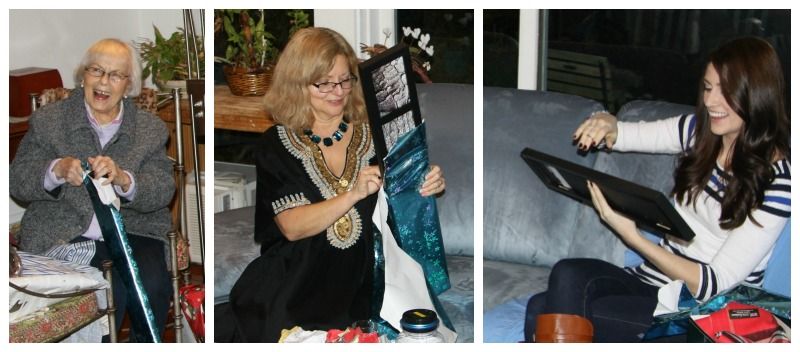 Gift giving at my dad's is always an experience every year.  We like to have fun with gift-giving and gifts range from gag gifts, DIY projects, themed presents, scavenger hunts, or as seen with the Pimm's drink, gift requiring activities.  It's always a lot of fun.  This year we all gave themed gifts, Michel and I got the theme of "drinks," my dad got the theme of "coffee," my stepmom received the theme of "horse racing," and my Yiayia received he gift of "clothing."
While my step-mom prepared our next spread of food we took the opportunity for a quick photo shoot sesh.  It was really nice to have my Yiayia there for Christmas now that she lives closer.  She's literally a woman after my own heart, we're most certainly related.  My favorite moment of the night is when she assertively stated, "Oh! If I can't have my lipstick you might as well kill me!" It's like looking in a mirror of my 89 year old self.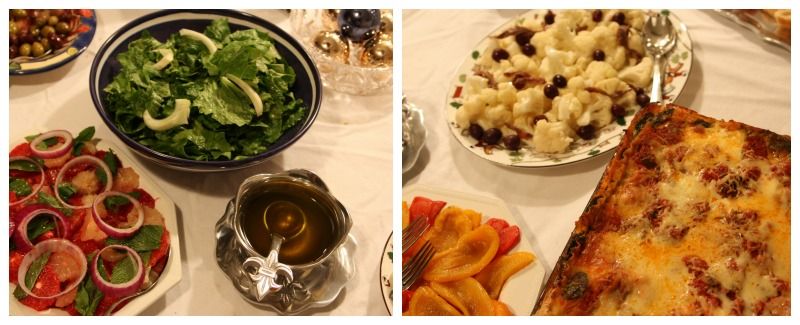 If the appetizer spread wasn't enough, for dinner we were treated to homemade lasagna, Sicilian citrus salad, fennel encrusted seared tuna, a cauliflower salad, marinated peppers, and some more champagne.  If was finished with coffee and birthday cake (Dad shares his birthday with none other than Jesus himself) and  then, of course, some coffee.
Happy Holidays, from my little family to yours.  I hope you all have a healthy and safe New Year.
What did you all do for Christmas?   Anyone else split their holiday between two houses, like us?

Also, whatcha get?! I wanna know the best gift you received this Christmas, leave it for me in the comments!