Foxwoods Casino in Connecticut runs "Liquid Sundays" every Sunday through the summer. The idea is to bring a Vegas-style pool party to Connecticut, complete with a DJ, obnoxiously Instagram-able floaties, and buckets of cocktails (no, seriously, a bucket full of booze…the bartender laughed at me when I asked her if it was "just for one person" or if I was "supposed to share it." The answer is…it's just for you. Vegas-style pool party-goers don't share their buckets of booze.)
I was invited to the bash by Pepsi, who was there to celebrate World Emoji Day. Pepsi recently launched bottles with their own unique take on emojis. There are over 600 proprietary designs so it made sense that they were going to join in on the World Emoji Day fun.
As part of the day, Pepsi had a Plinko-style game you could play to win some fun swag from sunglasses to beach towels to magic show tickets at the casino. I'm not going to lie, I grew up watching the Price is Right and climbing up to that Plinko-style board was seriously full-filling some childhood daydreams. If you never yelled "$2.45! $2.45!" at the T.V. while home sick from school, then you didn't do childhood right.
And, it turned out all my Price is Right studying did me well because I won the biggest prize! You can see how excited I was below (pure bliss.)
I don't know about you, but typically I reserve Sundays for relaxing and mentally preparing for Monday (womp.womp.) But, I loved going out of my Sunday comfort zone with a Sunday afternoon pool party! I boogied to the DJ, dipped into the pool, drank booze from a BUCKET, and pretended that I didn't have to be a grown up the next morning.
Cheers to Sunday Fundays!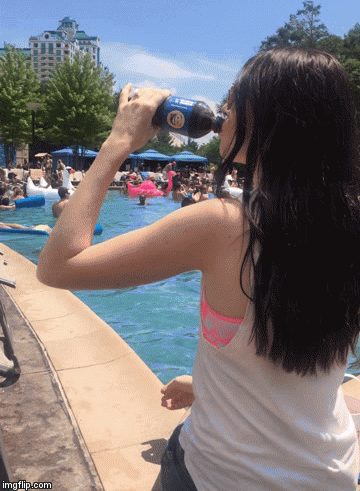 This event was Sponsored by Pepsi